This article is part of The Sphere funding campaign to revive & derive seed performances displayed in The Sphere Metagallery. When making a donation, you will receive $SEED tokens. They represent your share in a seed performance NFT. They also allow you to participate in The Sphere Megavote. At the end of the funding campaign (May 15th 2022), you will be invited to convert these tokens into $KARMIC governance tokens, using the our Karmic Engine Dapp.
---
8H11NO2 is an intense, oppressive performance about schizophrenia and the body. Stretched between the visceral and the unreal, the artwork and the reality, past events rise to its surface and dissolve, slowly, in an air of peaceful horror. Here there's no centre, no secret, just an endless series of layers to be peeled back, movements to repeat, rooms to walk into.
ROOM 100 was founded by Antonia Kuzmanić and Jakov Labrović. C8H11NO2 was their first performance, last shown in Helsinki in 2014.
"The last month has been an interesting period in which we learned a lot and looked back on what we had done earlier. Feeling proud of something that has been created 12 years ago is still relevant and interesting and now, again alive in a digital space. We are looking forward to discovering what this new life is going to be and how others will discover our work again…"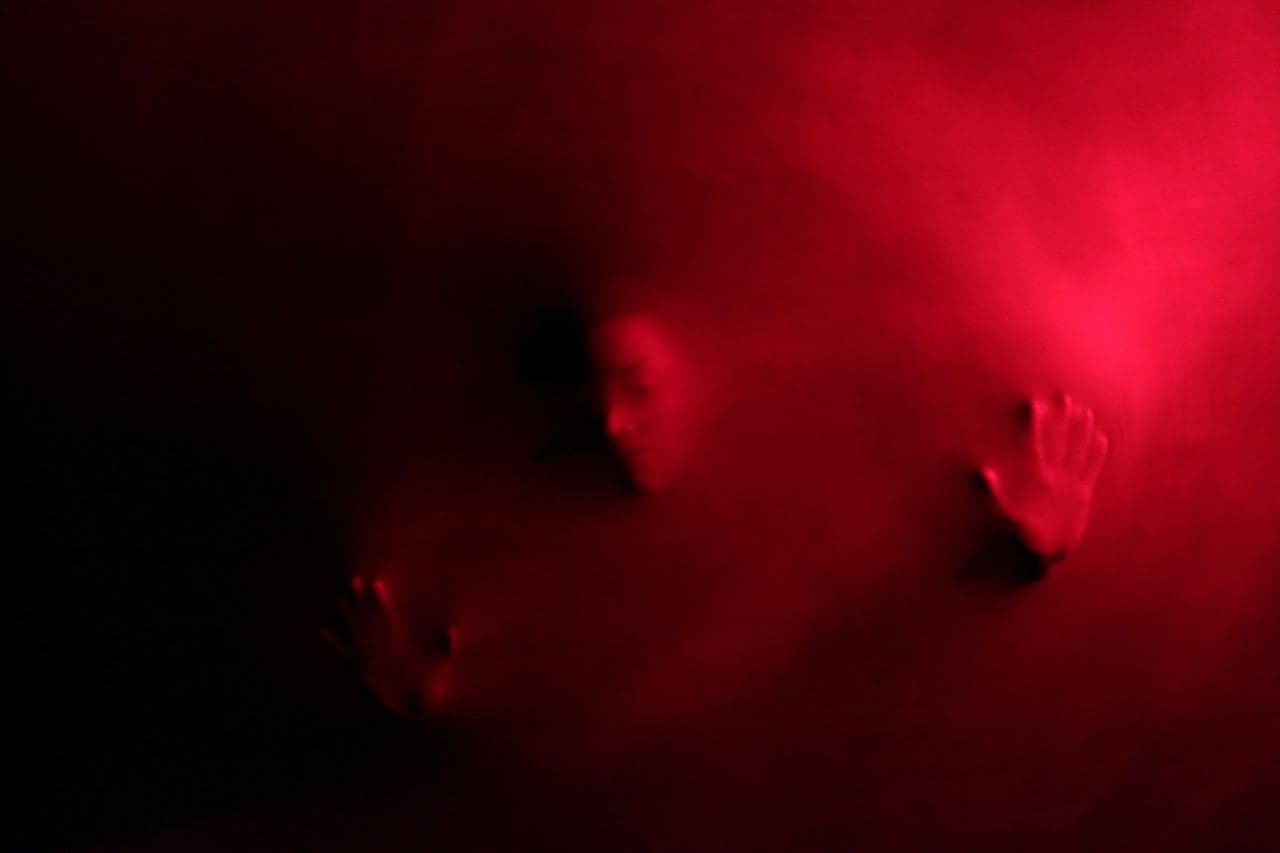 The Sphere Metagallery
For a unique immersive experience of ROOM 100's work, come visit the Sphere Metagallery!
The Sphere Metagallery is the Sphere's 3D portal. The artworks exhibited there are not simply finished pieces there to be contemplated. They are NFT-augmented seed performances pointing toward an open-ended future, initial fragments meant to be taken up by other artists for transformative iterations. Everyone is invited to contribute to this collective adventure in the making – are you ready to bring in some differential skin in the game and interact with our specially crafted web 3.0 Karmic Engine to initiate a new cycle of creative collaboration?
Collecting Live Art
Collecting live art is a bit of a paradox. How can you collect something that only exists in the moment? How can you make it live forever? Beyond buying tickets for shows and following performance artists' social media accounts, there are only a few ways in which you can actually invest in Live Art. Until now.
Inspired by Primavera de Filippi's Plantoid, a digital life-form that feeds on cryptocurrencies and reproduces autonomously, the Sphere's Digital Soul works as an automated reservoir – a digital common pool – for capital accumulation and direct distribution to future artists. Each time an artwork displayed in the Sphere Metagallery receives enough funding, it creates a bounty for future artists to create new derivative iterations. As a Sphere sponsor and collector, you thus get to play a crucial role in activating the afterlife of live performances!
When you invest in The Sphere's Digital Soul, you not only support the work of artists you love: you become part of the living artwork itself. You become part of an expanding network of live art production that embeds its own capacity for sustainable self-growth. You hold space for future performances to take place. In other words: you hold an active fragment of an emergent and groundbreaking – or rather,  terraforming – Live Art Network Derivative (LAND).
The Sphere Evolutive NFTs
This digital animated sphere (here above) is a specially crafted evolutive NFT attached to ROOM 100 - C8H11NO2 seed performance. Each seed performance exhibited in the Metagallery has a different one. This evolutive digital artwork will visually transform as the seed performance advances in its collective value journey. Right now, you see it in its phase 1. After the Sphere Megavote (end of April 2022, more info below), it will enter phase 2. And later in September 2022, after it goes through the Karmic Engine funding ritual, it will reach phase 3.
The Sphere's evolutive NFTs function as a tangible testimony of the transformation of the seed performances as they undergo creative collaborations with new generations of artists. Think of it as marker of provenance: a living memory device that will allow for the distribution of royalties to previous artists (and eventually supporters) through the lineage of derivative iterations.
The Karmic Engine
When you invest in one of the seed performances through the Mirror article, you get an amount of $SEED tokens proportional to the donation being made. At the end of the funding campaign (May 15th 2022), you will be invited to convert these tokens into $KARMIC tokens. This conversion happens on the Karmic Engine Dapp. The KARMIC tokens are NFTs in their own right. They are unique governance tokens displaying the evolutive visual representation discussed above.
The Karmic Engine is the Web3 core of the Sphere ecosystem. Designed by the CurveLabs crew, its main functions consist in the governance and automated allocation of funding. It also facilitates the summoning of incoming artists & creative proposals once a funding threshold is met. Think of The Karmic Engine as both the blockchained gatekeeper of the Sphere's Digital Soul, and the digital vehicle securing the afterlife of performances and carrying them through their transformative value journey.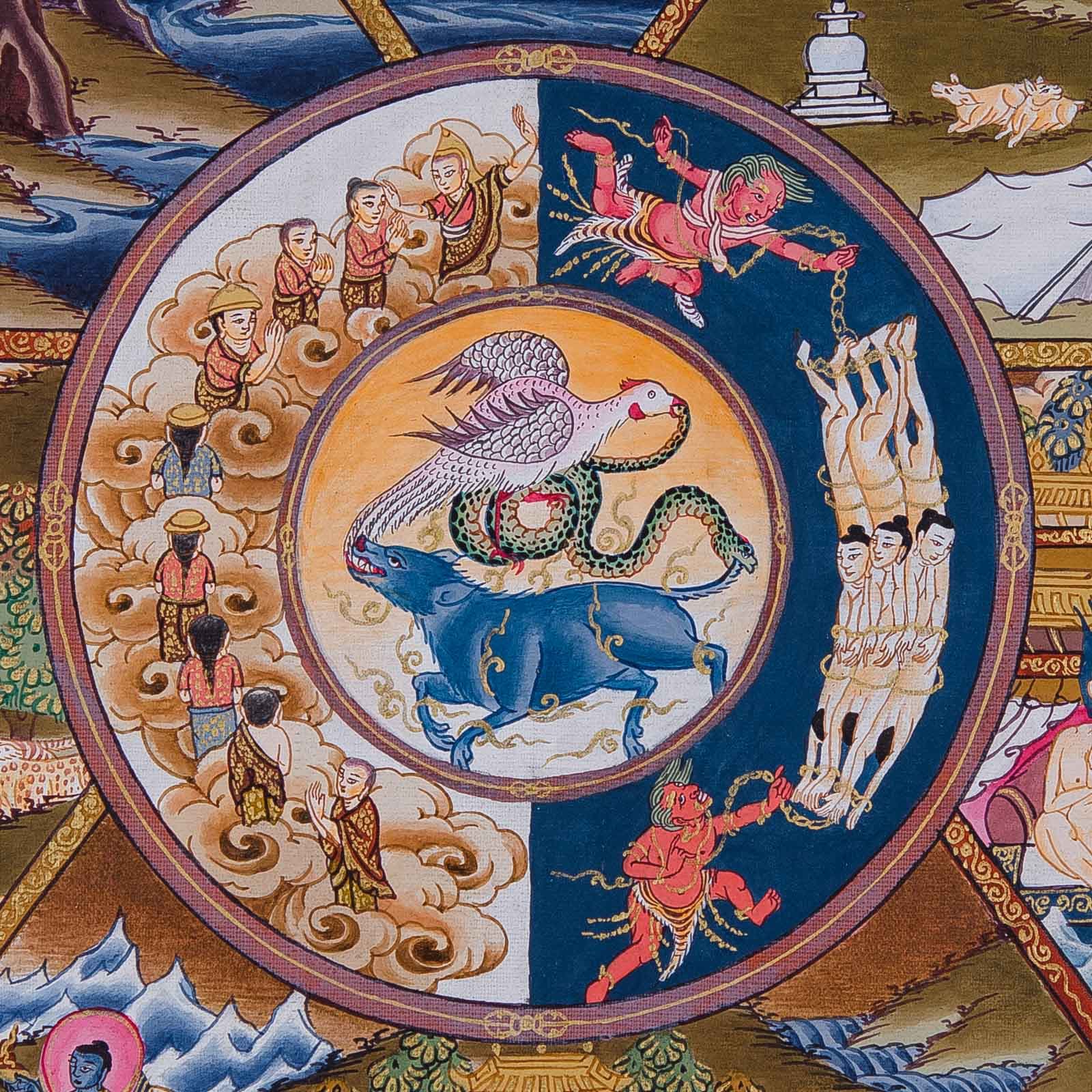 The Sphere Megavote
The Megavote is an exciting way to support the artists presenting in The Sphere Metagallery. It includes hundreds of circus aficionados coming from our extended network of European circus partners, and all incoming invested audiences who will have choose to insert a few tokens in the Karmic Engine.
We have created the Megavote as a way to allow a maximum number of people to participate in the Sphere's ecosystem and feel some sparkles of crypto-circassian joy, even those without a crypto-wallet. Indeed, together with Black Swan DAO, we've been developing a Discord compatible quadratic voting app that will allow everyone to participate in this democratic funding allocation experiment.
Through a quadratic voting process, the public is invited to select which one out of the six initial seed performances will be granted pre-budgeted funding from The Sphere. Here is a neat tutorial presented by our Black Swan DAO friend, Calum Bowden, to help you navigate the app.
The proposal with most votes after the Vote Phase will be granted €10.000, in addition to whatever sum will have been funneled through the Karmic Engine. The Sphere presenting partners will also offer residencies and international presentations for the winner, in Berlin and Vilnius 2022 and spring 2023.
BTW: If you have contributed to the Sphere funding campaign and received $SEED tokens, you can participate to the Megavote as invested audience. Just click on this Sphere Discord channel link to register your asset by connecting your digital wallet.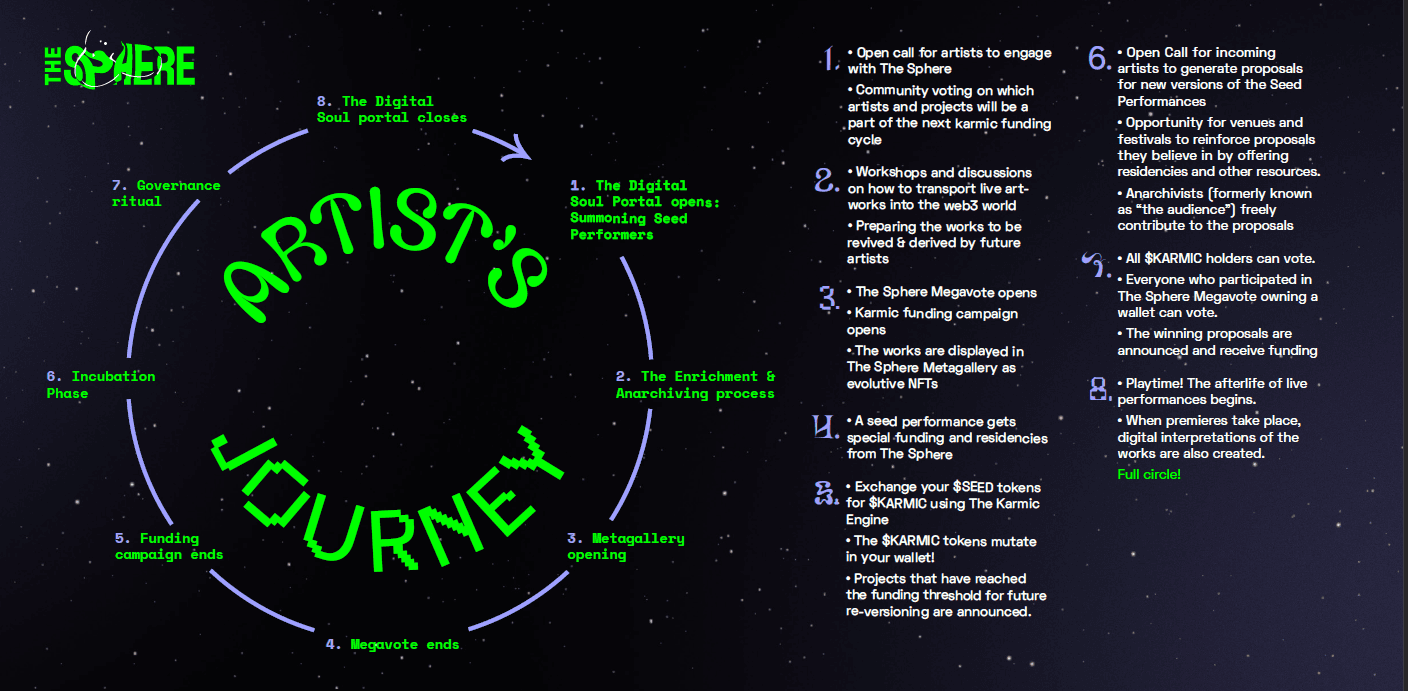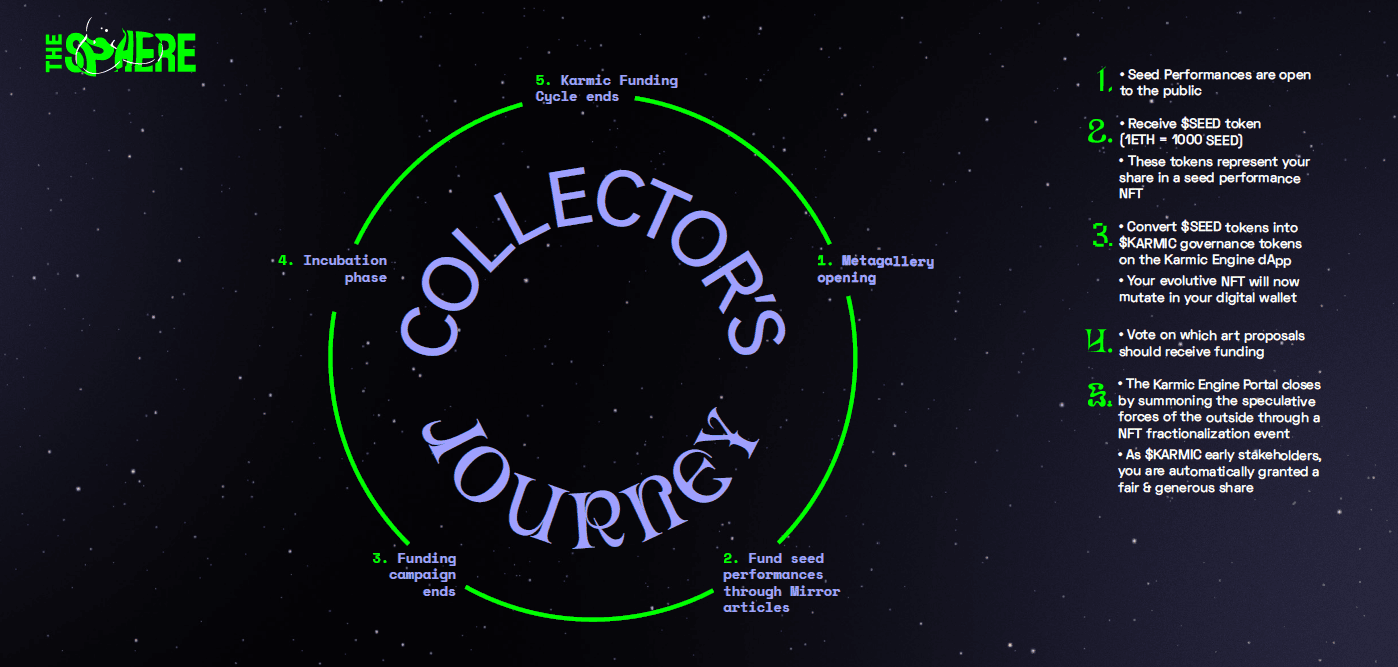 What to do Next?
Choose which seed performance(s) you would like to finance through their respective Mirror articles. They are accessible through The Sphere Metagallery. (Note: you can also donate directly to the Sphere on the Karmic Engine Dapp and receive KARMIC tokens)
After your donation, you will receive $SEED tokens generated by Mirror's smart contract. Hodl them. They are your receipt. Your initial proof of participation. You are already collecting live art.
On April 30th 2022, the Megavote closes. Make sure you have casted your quadratic vote in time! After the vote, your evolutive NFT will mutate for the first time.
Then, once the Sphere funding campaign comes to a close (May 15th 2022), you are invited to convert your $SEED tokens into KARMIC tokens on the Karmic Engine Dapp .
From May 16th until September 2022, the Incubation Phase begins. You can follow the collective crafting of proposals for future derivative iterations on our Discord channel.
Once the Incubation phase is closed, you will be invited to participate in a second quadratic voting ritual to decide which derivative iteration proposals should be enacted. Once the vote is in, your evolutive NFT will mutate a second time in your wallet.
Remember: this is only the beginning of your NFT value journey! In order to close this initial karmic funding cycle, we plan a collective fractal issuance event that will attract more forces from the outside and expand the powers of the Sphere's Digital Soul (or have it devoured in the process).
For more detailed infos about The Sphere ecosystem and funding campaign, please refer to our gitbook.